Koh Kut resort expresses regrets for massive fire, insists smoke detectors were installed
A luxury resort on Thailand's Koh Kut island has issued a statement regarding Sunday's massive fire, expressing regret and concern for those affected, while insisting that all villas within the resort have smoke detectors installed. The cause of the fire is still under investigation.
The resort's statement came after a well-known paediatrician and a former actress both shared their close calls at the resort on their social media. The doctor questioned why such a luxurious resort has no smoke detectors or fire alarm system.
The resort, called "Soneva Kiri" said in the statement that the fire began in Villa 63 and all guests were evacuated safely.
The statement also said that they controlled the fire, which did not affect other villas. Other facilities within the resort, such as the restaurant, were not affected by the fire and are still operating as normal.
The statement insists that the resort on the island, which is in the Gulf of Thailand off the eastern province of Trat, as well as other resorts in the Soneva chain, have adequate safety measures in place. It also claims that their firefighting team have been well-trained and managed to control the fire without affecting other areas of the resort.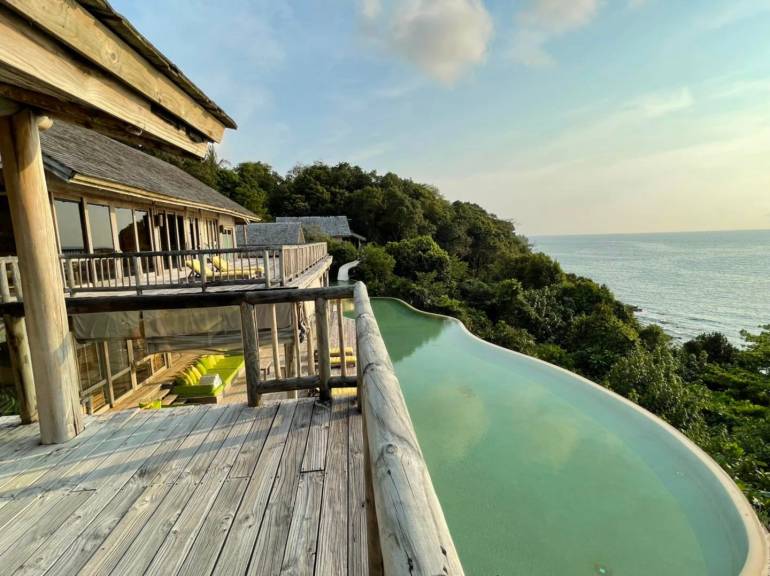 Paediatrician, Dr. Jiraporn Arunakul, of Ramathibodi Hospital, responded to the hotel's statement by claiming that the hotel staff only appeared after her group had already escaped from the fire and were not "evacuated" as such. She did, however, thank the hotel staff for providing first aid and for taking them to hospital.
Responding to the hotel's claim that there is a smoke detector installed "in every bedroom", Jiraporn said it is possible that such detectors may be in the villa's vestibule, but insisted they are not in the bedroom.
She added that some items which were damaged or lost are irreplaceable, such as pictures in mobile phones, research information stored in laptops or her daughter's journal.
One night at one of the resort's pool villa suites starts at about 44,000-53,000 baht on online booking websites, but a five-bedroom beach pool villa is listed as high as 430,000 baht per night.